---
January 28, 19123 - 01:36:01 PST
---

While you're here, you might as well peek into our lives a little. Sonoma County is where we live, and we agree with Luther Burbank when he called it:

'' The chosen spot of all this earth as far as Nature is concerned.... ''


---
A chat room has just been installed, mainly for family and friends but if you want to step in and check it out, it's ok. This may be limited to just family & friends in the future, we'll see.
---
Send us some email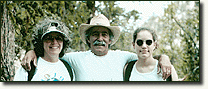 Our interests vary
---
Leonard is the developer of the Bristlecone Website, and enjoys the art of Bonsai, gardening, photography, and is doing business as net.ways, designing Webpages. He is also a minor contributor to the Bullet Racing Team, and is currently a full-time student at Santa Rosa Junior College.

Susan is an academic advisor at Sonoma State University, and active in the Bahá'í community.

Amanda is attending the University of Puget Sound in Tacoma, Washington.